Exquisite luxury French furniture designs from the master craftspeople at Taillardat!
Orléans-based furniture-makers Taillardat (www.taillardat.fr) are specialists in recreating some of the most iconic furniture designs of the Golden Age of French furniture, the 18th and 19th centuries. Teams of highly-skilled craftsmen and women use age-old methods to create ornate and very realistic reproductions of the best-loved styles of tables, chairs, armchairs, bookcases, sofas, stools, mirrors and beds. If you click here, for example, you'll be able to browse their empire lounge table range and see many other styles of low table.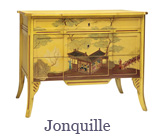 Taillardat makes items based on all the major movements in French furniture of the 1700s and 1800s: Restoration, Regency, Directory, Louis XV, Louis XVI, Louis XVIII and Marie Antoinette. These designs are attractive, but practical as well, which can perhaps be best seen in the sturdy chests of drawers on offer. These robust items will provide you with lots of storage space. Many models are finished off with skilful lacquering, including the highly original Jonquille design pictured below, which recalls the heydays of the 'Chinoiserie' style. This item is made from beechwood, but mahogany, cherry and mixed wood marquetry designs are also available.